Are they or aren't they is today's question, so let's get into it! Nicki Minaj has never been too explicit about who she's dating, so many have always accepted that she is in a relationship with Safaree Samuels. Is that still true?
According to reports, Nicki Minaj and Safaree Samuels have been in a romantic relationship for 14 years. There have been occasions where they seemed completely in love and other times where she really wasn't claiming him:
Nicki in May 2014:
"SINGLE N READY TO MINGLE"
When the supposedly engaged rapper tweeted this out, many went into speculation overdrive because she's never really publicly claimed to be dating Safaree. With this tweet, she opened up a can of worms and most took it to mean that the two had broken up. Shortly after that declaration, however, they were seen out together. Now, keep in mind that he is her hype man during her rap shows. That could therein be part of the problems. They have been "in love" since her days at Fiorello H. La Guardia High School in NY. We're not sure if he attended/graduated as well, but we do know that he too is a rapper. He has spent all of his spotlight years supporting her, executively producing at least 1 of her albums and hyping up her shows in the shadows. Maybe that's part of the problem they are having, according to rumors. He is allegedly tired of propping her up, waiting in the wings and not being claimed as her boyfriend. He apparently wants to shine as her man, as his own artist and have his own support base. Whatever is going on, his recent tattoo removals have caused a firestorm of doubt about their "on" dating status.
These are his original chest tattoos:
These are the altered tattoos:
Also, check out his recent 14 hour arm tattoo: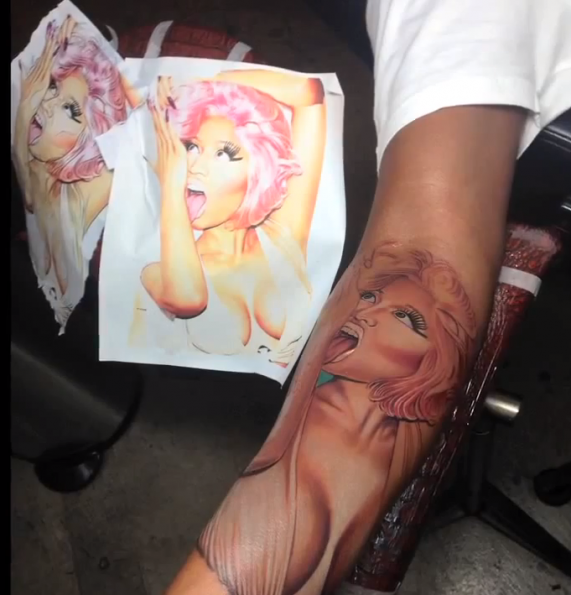 Here is the contrasting and controversial changed arm image:
Additionally, this is Nicki and Safaree in a rare photo showing a little affection:
We guess Safaree has had enough of hiding in Nicki's shadow, dancing to her tunes and baying at her moon. Maybe they were never really a couple, but we really doubt that. Nicki has done a good job of keeping him in her closet as much as she does her clothes at times. She has probably been very vulnerable and naked with him emotionally for years due to closeness and trust, but now it may all by over. Unfortunately, each tattoo that Safaree Samuels has tried to cover/erase from his frame still won't heal the wounds and desire for what he really wants and that's fame.
Nicki Minaj and Safaree Samuel's average celebrity relationship lasts 14.6 years. Their only celebrity relationship was with each other.